Dr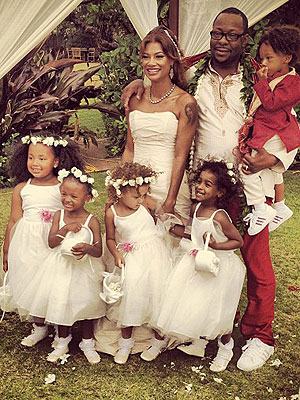 y your eyes ladies, Bobby Brown is officially off the market again… *sarcasm*
In a private ceremony in Honolulu the 43 year old R&B star married his long time girlfriend/manager Alicia Etheridge.
The two have been engaged since 2010 where he proposed to Alicia during a sold out New Edition concert in Jacksonville, Florida.
Bobbi Kristina Brown did not go to the wedding, and reports say that her and her father are not on good terms right now…
Ya'll thinkin' it, so imma be the bad girl, and write it…. Ya'll thinkin'.. what in the hell does that pretty woman see in broken down lookin Bobby B????
But remember she is also his manager, but I don't think mixing business with pleasure is a great idea.
We'll never know, unless they sit down on the couch with Oprah.
Did you all know that Bobby is only 43 years old, he looks like 53 years old..
Any who Congrats on your union! I do wish them the best, who knows Bobby may be a changed man?
Read More: Bobby Brown Marries Alicia Etheredge : People.com.
Comments
comments