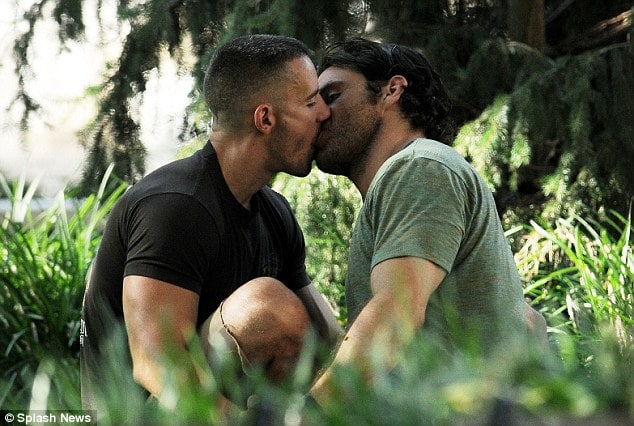 Anderson Cooper has always been private about his private life until recently when he openly admitted to being gay. Now a little over a month later his private life is going become even more public with pictures that have surfaced of his partner Ben Maisani exchanging spit with an unidentified man.
The timing makes this sting a little bit more because Cooper and Maisani were planning to get married around Labor Day weekend.
As of now neither Maisaini or Cooper have publicly reacted to the photos.  What we do know is  that there's  definitely trouble in the nest. Anderson who is usually very active on twitter has been very hush hush these past couple of days.
So are we jumping to conclusions?  It's  possible that the two may have an "open" relationship. We live an era of many arrangements when it comes to relationships. True that there is no perfect formula but when two people agree on what makes 'them' happy, that's all that matters.
Then again, would the two be planning to undergo the traditional route or marriage if they were engaged in such an untraditional open relationship? I don't know, there are so many questions, and no one is suppling any answers.
Well public awaits as a man who's job it is to connect and tell the story of others, to tell us his story as it relates to this act of  what seems to be betrayal against him.
Ben Maisani is the owner of Eastern Bloc, a popular gay nightclub in the East Village of New York. 
What is up with the wilderness cheating. First Kristen Stewart frolicking through pastures with her mister, now this guy recreating a scene from Avatar in the park. Shame On Ya!
Well Anderson, if this in in fact NOT ok with you…  just let us know what you want us to do.. boycott his club, fill his spray tan can with blue paint…….We got your back.
So if Anderson Cooper, who comes off as the sweetest most adorablest thing on earth falls victim to a slore (slut+whore), is there any luck for us regular folk?
Straight or Gay, is fidelity a thing of the past? Is it unrealistic to expect a one not to wander?