Previously on the Bold,The Beautiful, and the Ratchet: ( Love & Hip Hope Atlanta)
Mimi has had her fill with Stevie J and gets personal and emotional in a therapy session where she and Stevie attempt to find a middle ground and move forward as co-parents.
We learn that Mimi's  mother abandoned her for Scientology ( dayum, not a good moth for Scientology, AT ALL), and they were never able to redevelop a relationship. We also learned that Stevie didn't have a relationship with his mother either. So it turns out that the dysfunctional two were probably doomed from the beginning.
The episode left off with Stevie suggesting that him, Mimi, and Joseline attend a counsling session together. Why, I have no idea, but like we saw in the teaser to this Monday's episode, it's definitely going to be interesting.
J
oseline is strutting a bit of independence by producing a song without Stebbies knowledge. Then again when you don't want someone to know that your are producing a 'secret' track behind their back, it's probably best not to use the persons studio that you are trying to hide the project from….you would think..
Stevie being that producer-pimp that he is didn't mind and reassured Joseline that he is entitled to a percentage of whatever she makes regardless of how its made. Their romance is so inspiring… #Sarcasm
Meanwhile Karlie and Benzino continue to fuel their romance from the last episode where Benzino attempted to give Karlie a hysterectomy via mouth. ( I am still queezy from watching that make out session….uhhh)..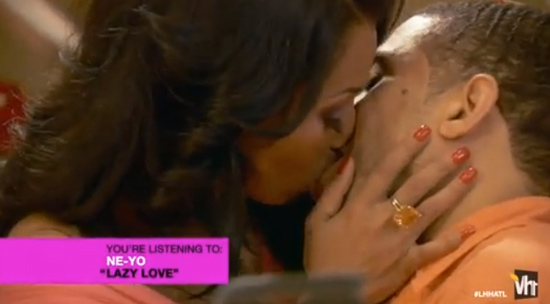 AnyWho…
Karlie receives professional backlash from her manager who warns her about getting romantically involved with Benzino.  Karlie then regurgitates the message about his bad reputation to Benzino, and in return Benzino reminds her that she ain't "yet" nobody who anybody would be concerned about her personal life… (ouch)  In engaging pillow talk Benzino offers some wise advise that you wouldn't expect from a man with tear drops tattooed under his eye; Don't let people who ain't doing nothing for your career, dictate the matters of your heart, just follow your heart and don't worry about what anybody thinks… 2Shay Benzino……..2Shay
To prove to Karlie how much cred he has, Benzino sets Karlie up with a meeting with mega producer Vincent Herbert who is Tamar Braxton's husband and Lady Gaga's manager (not bad Benzino). In the meeting Herbert expresses that he is confident that Karlie can be a successful act.
Stevie and K Michelle wanted to showcase their song writing skills this episode and the muse for both of them was Mimi.  Stevie performed a song he wrote for Mimi at a club, and it was a complete fail. It doesn't make any sense why Stevie would sing to Mimi when he's going to be smashing Joseline later that evening. The man is confusing as all hell!
Then K Michelle brings Mimi into the studio in a failed attempt to brighten Mimi's spirits with a song that she wrote about the goings on between her and Stevie…. Next time KM just get the girl an edible arrangement…. dayum. The last thing someone would want to hear when going through some drama, is their drama in a song written by their "homegirl".
K Michelle goes out on a date with the hunkalicious  Stevie Baggs who is played pro football in Canada, and is now a free agent. They seem to hit it off being t
hat they decided to play a game of tonsil checkers, so we may see more of him, but we aren't because it was pure casting.
On the other side of town………
Rasheeda is faced with the decision of putting business matters before personal matters, and fires her manager/husband. Thingwill be a lil awkward in that household for a lil' bit, but eventually her husband will put his pride aside and support his wife's career decision.
Then……..
Lil Scrappy became the poster child for for support evasion when he got cross about Erica not agreeing to take him off of court ordered child support. Scrappy expresses his disappointment to his new love interest, and expresses the only reason him and Erica can't come to a personal areement on child support because it is her way of 'holding' on to him. Funny because Erica didn't feels that Scrappy wants off court ordered child support as a way to stay connected to HER. Their soooo CROSSED!
and FYI Scrappy…. We don't………Feel ya' ……… ya Feel me……
Will Stevie, Mimi, and Joseline become on happy blended love triangle?
Will Rasheeda and her husband Kirk be able to move past  her change in management?
Will K Michelle find love with a 7 foot tall pro athlete?
Will Lil' Scrappy learn to speak english?
Stay tuned for more The Bold The Beautiful & The Ratchet…..
Watch episode 7 in its entirety below
Comments
comments